Rooms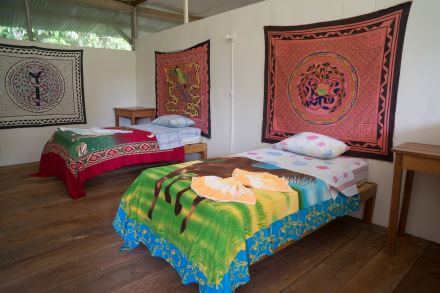 Each guest stays in a private room. All rooms in the quest house have two beds, in case someone wants to share a room with a friend, and we also have a room with a king size bed for couples. Most people on the 9 Day Ayahuasca Retreats and 12 Day Ayahuasca Retreats will sleep in the guest house on the far side of the swimming pond.
Those on Personalized Healing Retreats will typically be on a dieta to facilitate their healing, and will stay in a tambo for greater privacy. If tambos are available, guests on the 9 or 12 Day retreats may choose to sleep in one of those at no extra charge. Many centers charge extra for nicer or private rooms, we do not. Additionally, tambos have their own private toilet, along with a table, chair and a hammock inside.
The guest house has a large porch with hammocks and rocking chairs. All our rooms include shelves for your clothes and other items, a place for your dirty clothes, and a writing table and chair. They also have electrical lighting that is available until our generator is turned off at 10:00 pm. There are no gadgets, TVs, internet or other distractions of the modern world to get in the way of your experience, so you can focus on your healing. We encourage those who have internet access on their phone to turn it off and actually "retreat" from the world while staying at our center.
Meals
All meals are included in our ayahuasca retreats, and the food served in our dining room is fresh, wholesome and in-line with the ayahuasca diet. Meals are mostly vegetarian, but we occasionally serve fish or chicken. We will happily cater to those on vegan or vegetarian diets. Our kitchen is fully tiled and meets all Peruvian health and safety standards for ayahuasca retreat centers.
Maloca Healing Temple
Ayahuasca ceremonies are held in our maloca, a traditional healing temple. All ceremony participants will be provided with a mattress, pillow, blanket, bowl for purging and some tissue to clean up. In the daytime, this is also a place where you can meditate, do yoga or go to contemplate your experience.
Laundry Service
Laundry service is also included in our ayahuasca retreats. A laundry bag is in each room and will be picked up when full. The clothes are hand washed, and folded and put on a table in the common area when dry.

A charging station is also available so you may charge up phones, cameras or laptops. We are not connected to the electrical grid, but our generator does run three times per day so there is ample opportunity to charge your items.
For more pictures of our accommodations and ayahuasca retreats, visit our Photo Gallery, or contact us at hummingbirdretreats@gmail.com with any questions.