The Hummingbird Center also works with Huachuma, the medicinal cactus of the Andes also known as san pedro. We have found ayahuasca and Huachuma to be very complementary. Some individuals have a special affinity for one or the other of the medicines. Occasionally Huachuma will clear blocks in an individual that ayahuasca does not seem to touch. We have seen a number of people who were stuck have significant breakthroughs with san pedro, then move on to have wonderful and productive ceremonies with ayahuasca.
Focus of our Ayahuasca Retreats
The focus of our work is on healing and personal transformation - physical, emotional, mental and spiritual. We spend time with each individual to understand why they came and the outcomes they desire from their work with ayahuasca. This information is shared with our shaman, who works in ceremony to help each person realize their goals. Our circle meetings on the day after ayahuasca ceremonies reinforce that work, interpreting and expanding on their experience within the context of their intentions for that ceremony, and their goals for their time at the Hummingbird Center. Our retreats are limited in size, ensuring that everyone gets the personal attention they need and deserve.
The Hummingbird Center's approach uses a combination of traditional Amazonian shamanism, Huachuma, lifestyle coaching and compassionate and loving support throughout the healing and transformative process. We also provide teachings on the power and influence our beliefs and subconscious mind has on our experience of life, and practical techniques on how to reprogram our beliefs and subconscious to have a direct, positive change in what we create. The center is an environment of openness, authenticity and emotional safety where one can relax and be themselves.
Another feature that has been of major benefit to many people is our work with a master huesero, or bone doctor. Don Jorge is a truly gifted healer and has relieved hundreds of people of pain caused by the skeletal system not being aligned correctly. He has straightened out many peoples spines that had severe scoliosis, fixed a wide variety of joint issues, and fixed the breathing of many people who had broken noses, even those who had been told they would need surgery.
I never thought that the plant medicines we used would help me in such a way. The work that you do Jim, literally gave me my life back. I have such a immense respect for nature now and for those who channel the healing potential that nature can deliver. Now that I am healthy and can embrace life, I have been working hard to help others and have committed myself to psychology and psychedelic research. I know that ayahuasca will always be a part of my life, and I can't imagine life without the experiences that I had at Hummingbird. So one last time, to you, Gina, Manain, and everyone else: Thank you, Thank you, Thank you. I wish the best for all of you and hope to see you again one day.. Nick, USA
Guest Shaman Orion at the Hummingbird June 15 – July 13, 2017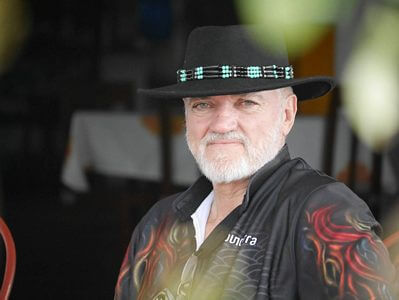 We are very pleased to announce that Orion is returning to the Hummingbird for his third visit. He is an initiated Australian shaman that specializes in using Shamanic Ritual and Telekinesis to heal the body, heart, mind and soul. He is trained in Australian Indigenous and Native American Ways. Orion also has a degree in Metaphysical Science.
This will be Orion's third visit to the Hummingbird, and in past visits his gentle loving presence, wisdom and rituals have been a great blessing to all. He will be offering personal ritual healing sessions that last about 60 minutes and cost $100. See more about Orion at Truth and Power
I was at the Hummingbird Center for one month healing from severe PTSD. My reality before my stay in the jungle was hell. My mind was haunted and chaotic. The amount of fear, rage, grief, shame and guilt I carried made it very difficult for me to leave my apartment. I also had severe physical pain and had been on strong painkillers for several years. I had been in agony my whole life.
I knew in my heart that I was stuck behind the physical and emotional pain I was carrying, that the pain was not my identity even though it had been with me for all my life which made it difficult not to identify with it. I knew in my heart that Ayahuasca would show me my true self, that she would help me work through the emotional and physical pain and help me let it go. This she did, oh she truly did. She showed me love, she showed me how to love, she taught me to love the pain, to love everything in me. I was healed with love and I was taught how to continue to heal myself with love. So my month in the jungle was truly amazing, but it was also one of the hardest things I have ever done. With my history and with the amount of fear I carried, it was very important for me to feel safe, to feel taken care of. This is what Jim, Gina, Manain, Charlie and all the other beautiful people who work at the Hummingbird Center provided. They made it possible for me to use all my energy in the ceremonies where it was needed. Even though Gina doesn't speak English she would hug me and hold me when she saw me, showering me with love just like Ayahuasca did. Also the additional medicine I was given, the additional healing from Manain, the San Pedro, the dietas and the bone doctor were all essential to my healing process. I have so much gratitude in my heart for all the people at the Hummingbird Center!
After I got back from the jungle I have continued to heal myself like Ayahuasca taught me. Now seven months after my stay in the jungle my heart sings with joy and love, my mind is much more quiet and the physical pain is gone. I am at peace. This is a radical change from my reality before Ayahuasca. Life is finally good! So I can only recommend Ayahuasca if you're looking to heal from PTSD. All you need to do is trust the medicine and surrender to her, and the best place to do that in my opinion is the Hummingbird Center. Heidi, Norway