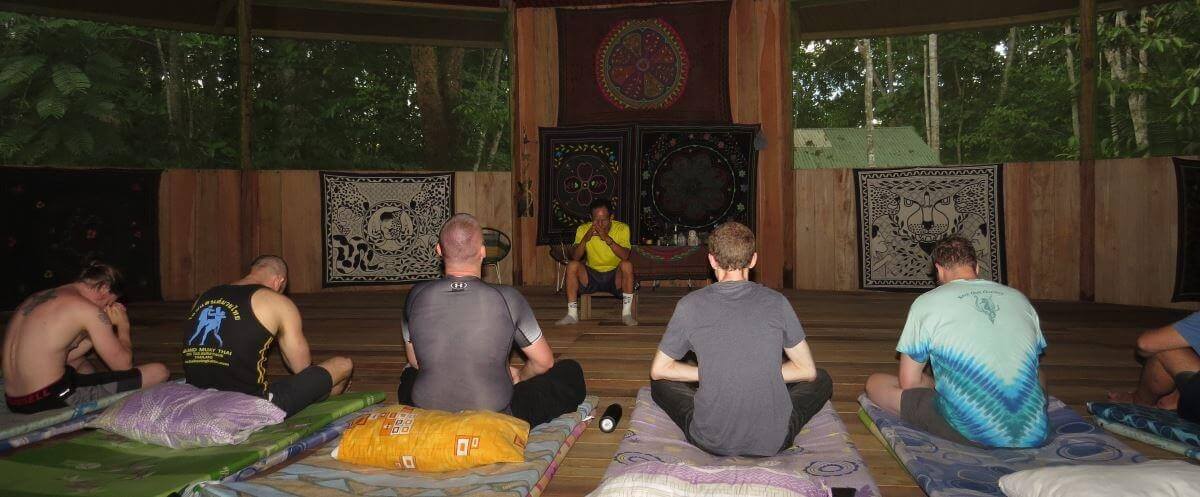 Transformative Ayahuasca & San Pedro Retreats
The Hummingbird Ayahuasca Retreat Center is a shamanic healing center specializing in the plant spirit medicines of Ayahuasca Peru. Our retreats are centered around transformative and healing ayahausca ceremonies and San Pedro ceremonies, with an emphasis on shifting our consciousness, thought patterns and beliefs. Master plant dietas are also available and are a standard part of our Personalized Retreat program.

Our ayahuasca shaman retreat is a fourth generation healer with over 40 years of experience with ayahuasca. We are committed to your healing and growth and provide a safe, compassionate and loving environment that allows fully opening to transformative potential of these powerful spirit medicines.

Located outside of Iquitos, Peru, for the past six years the Hummingbird has been getting excellent results for our clients, with most saying they received more than they thought was possible in such a short time. We are highly skilled in helping people understand their experiences, how their journeys relate to the changes they desire in their lives, and in helping people shift their perspective to see themselves in a more positive and empowered way.
Our methods combine proven shamanic techniques with the latest understanding of human consciousness and how our belief systems influence our lives.

In addition to deep healing, in our ayahuasca retreats we strive to help you understand fundamental aspects of being human and how to harness the innate power within all of us to live healthy, contented lives. In group meetings, two talks about our subconscious minds and one on one coaching, we teach how our minds and belief systems work together to determine our perception and experience of life, and how we can shift that dynamic to bring positive, desirable results. This teaching is done in simple language free of spiritual and psychological jargon, with plenty of personal examples so the principles are easy to understand and apply to your own life. The Hummingbird Center works to not only heal and transform your lives, but to provide you with knowledge and tools you can use to create the life you desire.

Since 2010 the owner Jim has been directly involved in guiding over 1300 people through this healing process and provides expert guidance and coaching in this magical journey.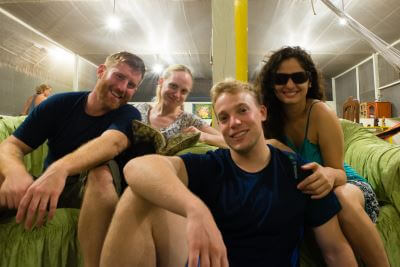 Dedicated to Healing and Transformation
The focus of our work is on healing and personal transformation - physical, emotional, mental and spiritual. We spend with each individual to understand why they came and they are looking to address with ayahuasca peru.

Our ayahuasca shaman retreat uses this information do do specific healing work in ayahuasca ceremony to achieve those goals. For over six years the ayahuasca retreat center has consistently gotten excellent results for people, with the majority saying that received much more than expected. We foster an atmosphere of open communication that encourages dialog about the problems of their past, insights received during ceremony, and any struggles releasing and leaving their stuff behind. Our circle meetings on the day after ayahuasca ceremonies reinforce this work, interpreting and expanding on their experience within the context of their intentions and goals for their time with the medicine. To ensure everyone gets the attention and support they desire we limit our group sizes to no more than 12 people.
Healing in Peace and Comfort
Healing with ayahausca and san pedro can be difficult and challenging. To help make this process a little bit easier we have put a lot of attention into making our facilities as comfortable as possible. Arriving guests regularly comment on how beautiful and peaceful our center is, that it is much nicer than expected. They also remark on how good the energy feels as they walk through the gate.

All guests get a private room, and our beds have high quality, very comfortable mattresses. Our common area has a number of couches and a porch with rocking chairs and hammocks. Most guests will stay in our guest house that has a nice long porch with hammocks, overlooking our swimming pond. Those on personalized retreats will stay in tambos back in the jungle. If space is available, 9 and 12 day retreat guest may choose to stay in one of the tambos. There is also one room with a king size bed that is a nice option for couples. Regular laundry service is also included. See our All Inclusive Retreats web page for more details and pictures of our beautiful ayahuasca retreat center.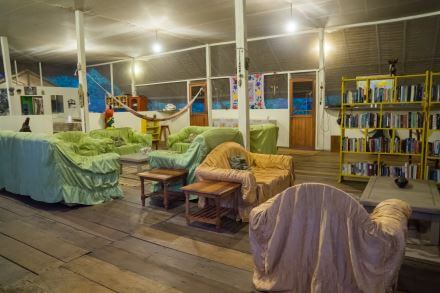 Master Huesero (Bone Doctor)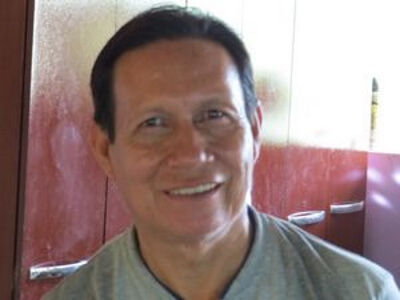 Another feature that has been of major benefit to many people is our work with a master huesero, or bone doctor. Don Jorge is a truly gifted healer and has relieved hundreds of people of pain caused by the skeletal system not being aligned correctly. He has straightened out many peoples spines that had severe scoliosis, fixed a wide variety of joint issues, and fixed the breathing of many people who had broken noses, even those who had been told they would need surgery. Jorge says migrain headaches are caused by the C1 and C2 vertebrae not being aligned, and we have had a number of people write back months later saying they had not had a migrain since he adjusted their neck. Sessions with Jorge are only 50 soles, all of which is paid to him.
Jim talks about ayahuasca
Photo video of a clients stay
This is the place you want to go to if you're seeking deep healing on an energetic, mental, emotional, spiritual level. This is my second ayahuasca retreat -- I previously went to a different healing center -- and I have to say, the level of deep healing one can experience here at Hummingbird is extraordinary in several ways:
(1) The quality and experience level of the ayahuasquero is masterful -- Manaii and Jim truly were master manipulators of energy and the icaros and rattling were HIGHLY effective at beridding me of that which no longer served me. Literally my subconscious was so open and having such masters literally pull energies out of me -- I am so grateful and in awe of the skill level and experience necessary to extract and perform such exorcisms. I felt energetically scrubbed clean. Raw even. The ayahuasquero also performs individualized healings during the ceremony, which I found extremely helpful in letting go and surrendering. This alone is an important reason as to why this retreat center is a good one -- all curanderos are not at the same skill level, and the emphasis one stresses varies widely. This one is very focused on healing.
(2) Emphasis on reflection and quiet time. I really appreciated this. While it's lovely to have excursions planned, I found it much more healing and helped me integrate what I learned on a deep level by NOT distracting myself with wifi, random excursions out to some adventure spot, all the things we would normally do in our day-to-day lives to stop ourselves from feeling whatever it is we're feeling. Life is really simple, I've found, and I've decided to keep it simple. Experience the simple pleasures. The distractions don't allow us the time and space to actually process what we're feeling internally. Truly experience the simplicity of watching dogs play in the pond, feeling the breeze on your skin while rocking in a hammock, contemplating your existence.
(3) The ajo sacha dieta. I'm so glad I did this. Three days of drinking a garlic-flavored tea, in conjunction with no salt, no sugar, no fruit, no chemicals, no electronics, no touching other people, limited interaction with others, limit reading, etc. This allows the body to allow further access to ayahuasca's healings, without having to work through other energies that might be obstructing. It was very challenging, but I had no idea how effective it would be until the 6th ayahuasca ceremony. It was only then that I realized how much extra purging my body was able to do during my 4th-6th ceremonies now that it was more able to release these energies. It's hard but worth it.
(4) Your own room. Yes, you can share with a friend if you want to, but I don't recommend it. We have no idea how much our circuitboards are overloaded with all different kinds of energy, particularly those that are not actually ours. It feels good to come back and have a private, safe space to feel all those feelings we've been avoiding. Have quiet space just to be without distractions. Fall apart if you need to. Not feel like you're bothering anybody when you have to go back and forth to the toilet, which is very common on ayahuasca nights.
(5) Jungle surroundings + dogs. Healing nature, with healing animals. I can't say how important this was to my personal journey at the retreat. The dogs were such amazing teachers, particularly this little boy puppy who taught me quite a lot while I was there. They taught me a lot about myself, what kind of love I had to give, my own capacity. There's also a lovely symphony of jungle noises at night. There's one bird or other unknown creature who sounds like he's cackling or laughing at us. It was actually eerie how often it would laugh when I'm having some kind of realization or insight.
(6) You can stay for as long as necessary as long as there's space. I was originally signed up for the 12-day retreat that included 6 aya ceremonies and 1 huachuma. I extended my stay by 2 days and included another huachuma ceremony. I LOVE that there's no set retreat schedule that one needs to adhere to. Healing doesn't occur by set schedules, and if one feels a month is necessary to work on themselves, then a month is what one needs. I love that this retreat center has the flexibility to do that. The next time I do ayahuasca, I will choose my own healing schedule as well.
Also, I have personally found for myself that 3 ceremonies was just scratching the surface for me. The deepest healing (also most challenging) I experienced was during my 4th-6th ceremonies, also hand-in-hand with the ajo sacha dieta which helped me release even more. I really do feel that more ceremonies is correlated with deeper levels of healing. Do participate in more ceremonies if your schedule permits. It REALLY makes a difference.
(7) Huachuma aka San Pedro. Very important master plant energy. Do not pass up on the opportunity to work with this spirit if you can. There are definitely different lessons and releases one experiences on Huachuma, and it is very clear to me that huachuma and ayahuasca work in conjunction with each other.
I am so very grateful of my experience at this center -- from Jim's extra coaching and insights, to Manaii's protective prayers, to all the compassionate treatment from the retreat cooks, workers, ceremony helpers who assisted us to the toilets. What a safe container in which to work on ourselves, I felt extremely well-taken care of. Thank you so much, Hummingbird! Much love Caroline, USA